The recent Champions for Change Summit brought together leading minds in Artificial Intelligence to explore the promise and challenges of AI in Aotearoa, New Zealand. Hosted by MinterEllisonRuddWatts, the summit delved deep into the transformative power of AI and the responsibilities it entails. In the age of rapid digital transformation, this gathering of experts, including Technology Futurist Ben Reid, Madeline Newman of AI Forum NZ, Hayley Horan of Te Pūkenga, and moderator Jarrod Haar, set out to discuss how AI can be harnessed to improve lives inclusively.
AI's Profound Impact:
Artificial Intelligence has been making waves across various industries, offering immense potential to enhance the lives of people within our communities. However, it has become evident that the promise of AI as a force for inclusive progress is still in the making. With OpenAI, Microsoft, and Nvidia at the forefront, organisations are confronted with the need to navigate both operational and ethical aspects of AI, including large language models and machine learning.
The Ethical Imperative:
While operational challenges are pressing, ethical concerns loom even larger. As technology advances at an unprecedented pace, regulations struggle to keep up. Consequently, it falls upon companies to ensure the safe and ethical deployment of AI tools, minimizing harm to stakeholders and society at large.
Navigating AI's Impact:
Every company, regardless of its industry, must confront questions regarding the application of emerging AI technologies. Some may need to pivot their operating models significantly, while others will seize the opportunity to scale and diversify their offerings. Yet, all must assess their readiness to deploy AI responsibly, striving to bridge gaps rather than perpetuating inequities.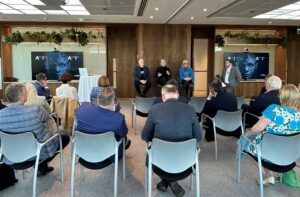 AI's Role in Inclusion:
During the summit, Technology Futurist Ben Reid emphasised that AI is mediating reality for us. With generative AI being multimodal, it offers a remarkable degree of malleability. Matt Prichard highlighted the potential of AI to look for inequities and design solutions to address them. "AI can be told to look for inequity, and to design itself to address inequity. We have that power in the way that we implement AI, he says" Aotearoa, with its small yet dynamic population of five million, possesses a unique advantage in leveraging AI technology for the advancement of all its people.
Championing Inclusive AI:
While AI undoubtedly brings benefits, it also raises concerns about rising inequalities. As history has shown, those who control transformative technologies tend to rise rapidly, leaving some behind. The challenge for our Champions and their organizations is to integrate AI with an unwavering commitment to equity. This means considering not only how AI can benefit their operations but also how it can positively impact society as a whole.
The Champions for Change Summit showcased the critical juncture at which we find ourselves regarding the use of AI. It is not just here to stay; it is here to evolve exponentially. With thoughtful leadership and a dedication to inclusive AI, Aotearoa is uniquely positioned to shape the trajectory of AI for the better. As we continue to grapple with the questions and challenges posed, one thing remains clear: AI must be harnessed as a tool for inclusion, not a pathway to inequity. Thanks to the insights shared by Ben Reid, Madeline Newman, Hayley Horan, Jarrod Haar, and the entire cohort of Champions, we are one step closer to achieving that vision of an equitable AI-powered future.