What's on
Upcoming events
International Women's Day 2023 #EmbraceYourEntrepreneurialSpirit
Wed 8 March 2023, 5:30 pm – 8:30 pm NZDT | PwC | PwC Tower, Level 27, 15 Customs Street Auckland, Auckland 1010
Join our storytellers as they share the importance of embracing an entrepreneurial mindset.
In the spirit of collaboration, the Global Women 2023 IWD event is a partnership with PwC and The Arts Foundation Te Tumu Toi.
Entrepreneurial Spirit is a mindset, it is an attitude and an approach to thinking that actively seeks out change, rather than waiting to adapt to change. It's a mindset that embraces critical questioning, innovation, service and continuous improvement.
Join our storytellers as they share the importance of embracing an entrepreneurial mindset. The more we know, the greater the chance we have to grow and evolve.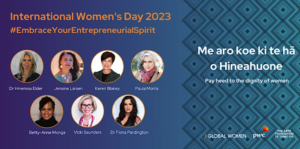 Our storytellers:
Dr Hinemoa Elder – Psychiatrist and Author
Dr Hinemoa Elder is of Ngāti Kuri, Te Aupouri, Te Rarawa and Ngāpuhi decent. She is a Fellow of the Royal Australia and New Zealand College of Psychiatrists and has been a child consultant and adolescent psychiatrist for more than 15 years.
Hinemoa has written a best selling book "Aroha. Māori wisdom for a contented life lived in harmony with our planet (Penguin Random House), chosen for inclusion in the Oprah Winfrey Bookclub in 2021. She has a new book "Wawata. Moon dreaming. Daily wisdom guided by Hina the Māori moon", (Penguin Random House) which was released in October 2022.
Jensine Larsen – Award-winning Digital Entrepreneur, International Journalist, and Speaker
Jensine (Yen-See-Nah) Larsen is an unstoppable, award-winning social entrepreneur, international journalist, and speaker who is unlocking the creative potential of women and girls through the power of technology and storytelling.
She is the founder of World Pulse, a safe, supportive social network connecting over 74,000 women from 190 countries and bringing them a greater global voice. Today, women leaders are speaking out, banding together, and speeding up the pace of change through World Pulse. They are building movements, launching businesses, influencing policy, and changing harmful cultural practices ultimately impacting over 17.4 million lives.
As a speaker, Jensine uses moving personal stories to inspire audiences to log on and rise up to take part in the global women's digital revolution happening now.
Keren Blakey – PwC Chair
Keren Blakey is Chair of PwC New Zealand. She leads the firm's Board and is responsible for overseeing PwC's governance and corporate responsibility. The PwC Board plays a critical role in overseeing the firm's strategy in a dynamic and rapidly changing environment.
Keren believes that leading with empathy and humility, and being open-minded and curious, will build more equitable, diverse and inclusive cultures in organisations and will benefit all key stakeholders – now and in the future.
As an experienced PwC Assurance partner, Keren works with a broad range of clients and has a deep understanding of the strategic opportunities and challenges facing businesses.
Keren was elected as Chair in 2020, having joined the Board in 2015, and leads the PwC Non Executive Director Programme.
Paula Morris – Arts Foundation Laureate 2022
Paula Morris MNZM is an award-winning novelist, short story writer, essayist, editor and tireless advocate, whose outstanding career has had monumental impact on the literary landscape of Aotearoa. Alongside her own creative work, Paula is committed to creating conversations between writers: pouring her time, energy and resources into making space for new voices. She is of Ngāti Wai, Ngāti Manuhiri and Ngāti Whātua decent.
Betty-Anne Monga – 2022 ONZM Services to Music
Betty-Anne Monga a decentant of Ngā Puhi, Ngāti Whātua, Ngāti Ranginui, Ngāiterangi, Tainui and Tūwharetoa. She was only a teenager when she joined the band, Ardijah after meeting them as fellow semi-finalists at a talent quest. After more than thirty years in the music industry, award winning Betty-Anne Monga continues to inspire and empower. Most recently, she has been recognised for her services to music in the 2023 New Year Honours and was made a Member of the New Zealand Order of Merit.
Vicki Saunders – Entrepreneur, Award-Winning Mentor & Founder of SheEO
Vicki Saunders is an entrepreneur, award-winning mentor, advisor to the next generation of change makers and leading advocate for entrepreneurship as a way of creating positive transformation in the world.
Vicki is Founder of SheEO; a two-decade long initiative to dramatically transform how we support, celebrate and finance female entrepreneurs building new models, new mindsets and new solutions for a better world.
Dr Fiona Pardington – Digital Art Exhibition
Dr Fiona Pardington is one of New Zealand's best known artists. She is Māori (Ngāi Tahu, Kāti Māmoe and Ngāti Kahungunu) and Scottish (Clan Cameron of Erracht). Her principal medium is photography. She is a specialist in 'pure' or analogue photographic darkroom technique, most notably hand printing and toning.
Fiona has an abiding concern with emotion and affect is at the heart of her practice. With over three decades experience as an exhibiting artist, she has continued to explore the capacities of photography by attending to what is hidden or unseen in the photograph as much as what it may represent.
Your hosts:
Theresa Gattung – Global Women Chair
Theresa Gattung is a New Zealand business leader, entrepreneur, author, philanthropist and investor. Her best-selling autobiography Bird on a Wire was published in 2010. Most recently launched the Gattung Foundation with her sister Angela Gattung.
Theresa is involved with a number of not-for-profit and philanthropic interests, including being on the Global Board of World Pulse, being co-founder of the World Women Charitable Trust and Patron of the Cambodia Charitable Trust. She is a supporter of The Pūriri Education Charitable Trust, Kootuituiki Papakura, Gandhi Nivas, the Aunties, and Amnesty International.
Mark Averill – PwC CEO
As CEO and Senior Partner, Mark leads a team of more than 150 partners and over 2,000 staff, who are focused on building trust and helping New Zealand businesses solve their most important problems.
Mark is focused on bringing what's happening globally to the fore in New Zealand and making these developments relevant for New Zealanders and our economy. With proven success in creating team based and collegial environments, Mark's leadership experience includes building market-leading teams, strengthening market position, and developing strategies for sustainable profitable growth.
With over 35 years of experience, Mark is dedicated to growing and developing leaders who bring diverse perspectives to all that they do. He believes in building equitable and inclusive environments where differences are shared and celebrated.
Mark has been the CEO of PwC New Zealand since October 2016 and prior to this he was the National Deals Leader for PwC New Zealand's Deals practice. Mark sits on the PwC Asia Pacific Leadership Team and the PwC Americas-Asia Pacific Leadership Team.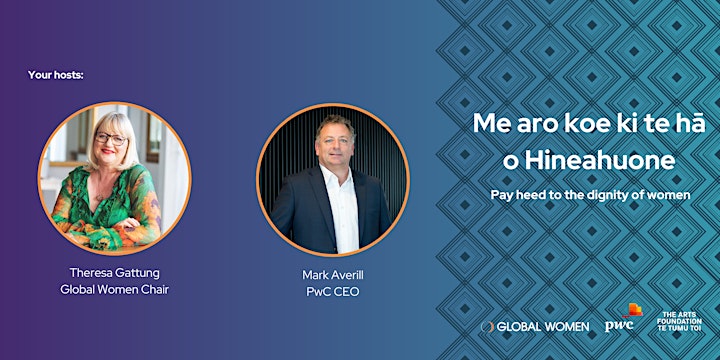 {{filtered.length}} events found | Show
Filter by Location
{{ event.start_date | date: 'short'}}
{{ event.venue_name }}: {{ event.venue_city }}
{{ event.short_description }}