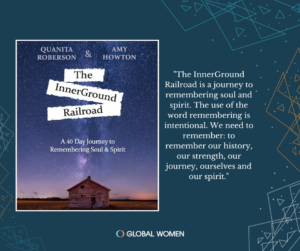 Quanita Roberson is the founder of Nzuzu Consulting with over 20 years of experience as an international personal and professional development facilitator, supporting in areas of healing, grief, leadership, diversity, and inclusion.
She draws inspiration from her background in organisational management and development with the key focus on Integral Theory and the ancient wisdom from the indigenous Dagara Tribe of Burkina Faso, West African. These practices have helped her view the world in a holistic way, while applying it to heal embedded trauma through a deep, fun, and free flow of energy.
Recently, Quanita joined forces with fellow friend, consultant and collaborator, Amy Howton to write "The InnerGound Railroad – A 40 Day Journey to Remembering Soul & Spirit." They've incorporated the use of Dagara Medicine Wheel and Integral Theory to embody their individual journeys of a shared bondage and freedom through stories and then guide their readers through their own healing journey.
We had the privilege of having Quanita, as one of our guest speakers in our Rising Together Speakers Series earlier on the year (you can watch the live Zui recording here).
There are still few copies of ''The InnerGround Railroad,'' available for purchase. Global Women is the only organisation to have obtained these copies in New Zealand and we're offering them at cost price.
Click here to purchase your own copy here.