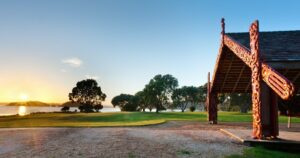 It's said that history never repeats. Through the power of reflection, we can both draw on the learnings of yesterday while keeping the trajectory, legacy and momentum going.
Waitangi Day is a day to commemorate, to remember, to celebrate the positive aspects since the signing of the Treaty of Waitangi.  While committing to our collective responsibility to forging a future that is diverse, equitable and inclusive.
This Waitangi Day, Global Women is launching a social campaign: marking key historical moments for women from 1840 through to 2023 and a look through to 2040 — the 200th Anniversary of the signing of the Treaty of Waitangi.  Juxtaposed with some of the incredible milestones we've already hit in Aotearoa, it's a reminder of what can be achieved if we work together in a true treaty partnership.
The campaign is fertile ground leading up to the Global Women Annual Members Hui at Waitangi in May. The membership will come together to imagine and create a collective vision of the future for wāhine of Aotearoa in 2040.  It is our intention to draw from the collective vision to accelerate our progress towards a more diverse gender equitable Aotearoa New Zealand.
Global Women today, take their place alongside New Zealanders in marking Waitangi Day as an opportunity to look back, to move forward and be the change we want to see.
"Waiho i te toipoto, kaua i te toiroa"

Let us keep close together, not far apart