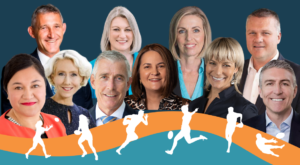 With awards season's full bloom coming to a close, we're thrilled to see some of the Global Women community spotlighted for their skills as CEOs. 
This time, however, it's not an awards dinner or certificate that marks their prowess. It's an addition to a special (albeit fictional) rugby team. 
10 members of the Global Women community have been officially handpicked by NZHerald, in a mirroring of the nation's excitement at the Rugby World Cup, with one goal in mind: to take on the rest of the world in business. 
Global Women agrees with writer (and team coach, in this context) Duncan Bridgman that these are the leaders "capable of bringing home the silver." 
So who exactly has made the first XV? Here are the Global Women members, CEOs of our Partner organisations and the Champions for Change that have been rounded up to make our nation proud: 
Greg Foran, CEO of Air New Zealand: Fullback. Noted as someone who has "has adapted his game well."
Jason Paris, CEO of One NZ: Right Wing. commended for not being afraid to go after what he believes is right and considering One's recent rebrand, not afraid to pivot and adapt as necessary. 
Arihia Bennett, Global Women Member and CEO of Ngāi Tahu: Centre. Picked for having "all the attributes of a great centre: experience, power and mana." She's "a dynamic leader in the backline who creates space and opportunities for her teammates."
Carrie Hurihanganui, a Global Women member herself as well as CEO of a Partner organisation, Auckland Airport: Left Wing. "Hurihanganui has been through the highs and lows of the aviation industry, moving from Air New Zealand to the airport at a challenging time" — which you  can read more about her fantastic journey from part-time cabin crew to COO here.  
Sophie Moloney, a Global Women member herself as well as CEO of a Partner organisation Sky TV: Halfback. "She provides a direct link to a huge audience and a valuable connection to team sponsors. Has fought hard against strong competition."
Miles Hurrell, CEO of Fonterra: No. 8. Noted as having done well and no stranger to a strong challenge. 
Jolie Hodson, a Global Women member herself as well as CEO of a Partner organisation Spark: Blindside flanker. "Has experience playing alongside Paris and Moloney and has adjusted accordingly. Keeps the opposition guessing."
Ross Taylor, CEO of Fletcher, Lock: can perform under pressure and who's "brought some muscle to the pack."
Of course, let's not forget some of the incredible reserves. There's ANZ's CEO Antonia Watson, a Global Women member and Champion for Change who "Recharges the pack with interest" as well as Partner Organisation, PwC's John Fisk for "When you need to change the game plan."
Also important to the game plan are the officials, in particular the referee who is none other than Global Women Member Samantha Barrass, chief executive of the Financial Markets Authority. 
With such a well-crafted team, we can't help but imagine the success they'd bring on and off the court. 
Read the full coach's notes online at NZHerald.co.nz for the full line-up.