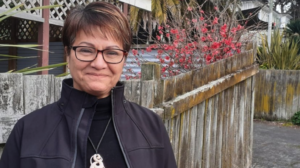 The swearing-in of a new Minister of Parliament marks a milestone for Parliament and women in New Zealand: it's the first time in history that women in our Parliament have an equal share of seats in the House. 
On 25 October, Labour list MP Soraya Peke-Mason's induction will mark the moment women represent 50% of the seats in the House of Parliament. 
It's significant not just in terms of gender diversity, but also that a wāhine Māori marks this chapter. Not only that, Soraya Peke-Mason will be the first MP sworn in by the new Speaker, her cousin Te Tai Hauāuru MP Adrian Rurawhe, and will be the first new MP pledging allegiance to the new king, Charles III.
"It is an honour and a privilege to be going to Parliament to represent our rohe," shares Peke-Mason. "I'm excited and proud to be able to represent our rohe, and for Te Awa Tupua, for Rangitīkei, for all of us to have another strong voice at a table that makes really important and hard decisions on behalf of Aotearoa."
Soraya Peke-Mason will be sworn in at 2pm, in te reo Māori, and will give her maiden speech at 5.45pm on the 25th of October. 
Prime Minister Jacinda Ardern commented that this moment in gender equality was "significant and heartening" and that it "shows the maturity of Āotearoa in terms of equity from a gender perspective."
This shows an interesting trend in public gender representation and equity, as this year marks the moment that women now account for more than half of our country's public board seats. 
Read more about this history-making moment over in our Partners, Whakaata Māori's Te Ao news section.