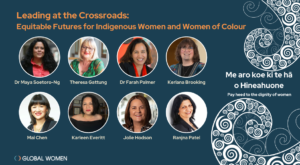 Dr Maya Soetoro-NG will share her perspectives in a one-of-a-kind campfire discussion on intersectionality alongside Aotearao's most prolific businesswomen and changemakers. 
We've only just begun to walk the road to representation of indigenous and women of colour in leadership. Our next event and live discussion will explore just that — with insights from some of the most inspirational women. 
Global Women will host Dr. Maya Soetoro-Ng, a peace consultant and professor as a key international speaker in a public kōrero this May, Leading at the Crossroads: Equitable Futures for Indigenous Women and Women of Colour, Thurday 11th of May at 6pm virtually.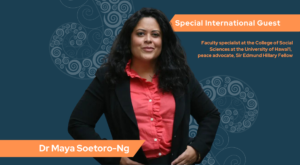 The intent of this event is to share perspectives with the wider community in a campfire chat style panel. Our speakers—a rich tapestry of women of colour and ally speakers at the top of their game—will share international and local perspectives on how to shift the dial for Māori wāhine, women of colour and indigenous women.
Dr Maya Soetoro-Ng is visiting on behalf of the nonprofit organisation that she co-founded, the Institute for Climate and Peace. She will draw insights from her inspiring career: including working to develop leadership programs in the Asia Pacific region, building the Hawaiʻi Girls Opportunity Alliance network, being an Edmund Hillary Fellow, and her role as Associate Specialist at the Matsunaga Institute for Peace at the College of Social Sciences, University of Hawaiʻi at Mānoa. 
This open discussion will take place on Thursday 11th of May at 6pm – 7.30pm virtually.
The unique and incredible lineup of local storytellers joining Dr Maya include:
Mai Chen

, Barrister NZ's top constitutional law experts, founding member of Global Women.

Dr Farah Palmer

, Former Black Ferns captain, first female member on the New Zealand rugby board and honoured as a Dame in 2023.

Jolie Hodson

, Sparks CEO, Deloitte Top 200 Chief Executive Officer of the Year and advocate for Diversity and inclusion

Ranjna Patel

, Equitable Health advocate and transformer of domestic violence response

Karleen Everitt

, Global Women Board Member, trailblazing wāhine Māori and the Head of Te Ao Māori Strategy at ANZ.

Theresa Gattung

, Global Woman Chair, entrepreneur, philanthropist and Angel investor.

Keriana Brooking,

PwC Partner, savant of the New Zealand public sector with 20 years of experience.

Mark Averill,

PwC CEO, dedicated to growing and developing diverse leaders.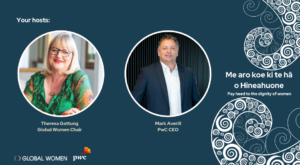 "It's with great excitement that we bring together the wisdom of Maya Soetoro-Ng and that of local speakers representing a range of backgrounds, industries and perspectives" shares Global Women CEO Agnes Naera. "This event will break the mould of traditional discussion panels, and no doubt instil a sense of inspiration and tangible action among those who share this special kōrero with us."
"We know it'll be the kind of discussion that no matter what culture, organisation, background, or level of expertise you come from, there will be a pearl of wisdom to take with you."
We hope you can join us for what's going to be an incredible kōrero.
EVENT INFORMATION
Date: Thursday, 11 May 2023
Time: 6 PM – 7:30 PM NZST
Location: Via zoom, click here