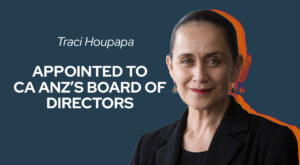 Many feathers adorn the cap of Global Women Member, Traci Houpapa. 
An appointment New Zealand Order of Merit. Being nominated as one of the BBC's 100 Women in 2016. Awarded the Massey University Distinguished Alumni Service Award for her work with New Zealand agribusinesses and Māori. Winner of the Westpac Fairfax Media Women of Influence Board and Management award too. 
Now, Traci Houpapa has officially joined the board of Chartered Accountants Australia and New Zealand, CA ANZ.   
As a trusted strategic and economic advisor to many incredible industries and sectors — Māori, Government, public and private, to name a few — Traci will be drawing on a rich tapestry of knowledge and wisdom in this endeavour. 
In speaking about her BBC list mention previously, Traci talks to the power of integrity and a clear vision. "People like us do the work that we do because we're passionate about our people and we want to effect positive change," she said speaking to Whakaata Māori's Te Ao — also a Global Women Partner Organisation. 
This role will join Traci's impressive existing directorship posts, including Chiefs Ruby Club, New Zealand Trade and Enterprise, Te Arawa Group Holdings and the Australia NZ Leaders Forum Indigenous Business Group.
Learn more about this move at AccountantsDaily in the original piece by Josh Needs or listen to Traci's latest kōrero as Chair of The Federation of Māori Authorities about those affected by Cyclone Gabrielle.