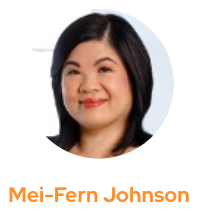 Russell McVeagh
Mei-Fern Johnson is a highly respected, award-winning Corporate Advisory Partner at the law firm Russell McVeagh based in Wellington, yet she is down to earth and practical when it comes to her clients and their needs. "The best professional relationships are built when people are in the trenches together, as we have been during COVID. I used to call my clients, now I continue to meet them on zoom so I can see them."
Born and raised in Malaysia, Mei-Fern completed her 7th form schooling in Auckland then went on to complete her Bachelor of Law (Honors) and Bachelor of Commerce at the University of Auckland. She and her husband (who is a stay-at-home dad) are raising three teenagers who are close in age. "I was in maternity clothes for five years!" she laughs.
Yet it was a salute to motherhood that has kept her at Russell McVeagh since 2004. "I nearly missed out on maternity pay because I had my children so close together. however, one of the senior male partners resolved the issue, which resulted in a permanent parental leave policy change at the firm. This proved to me that males can be supportive champions of change."
One of Mei-Fern's professional specialties is Mergers & Acquisitions. How challenging did this arena become during COVID? "In March to May 2020, we negotiated two very large transactions. The advisors and parties were based in New Zealand and Australia, all in lockdown. We zoomed daily, didn't lose momentum, and closed things out in a short timeframe. And it saved a lot of travel! COVID has led us to really understand the rearranging of care for kids and elderly parents that many of our team members face because we faced them too. Productivity has become less important than looking after the mental health of our people – they are our greatest assets; we have to act accordingly."
In 2014, Mei-Fern joined Global Women because "the organization has the mana and the people to make a difference. She is particularly encouraged to see new members who are joining from the public sector – they are formulating and implementing policies and macro issues that impact the entire country, making a difference at scale. Also, over time, impatient for change, I have become highly supportive of targets and quotas."
Our conversation turned to New Zealand's future. "Our infrastructure is failing, and we need capital investment to build for the future. Foreign investments are therefore absolutely essential. However, I feel very optimistic. We have strong female leadership emerging everywhere – Jo Cribb and Jane Wrightson are two examples who are leveraging their personal reputation to achieve new grounds for us. And women are becoming increasingly vocal influencers. Let's all do this for our daughters!"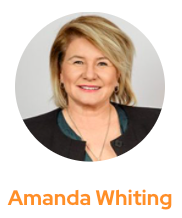 IAG New Zealand
Amanda Whiting's life has changed considerably since she was a farmer's daughter in Western Australia to her current role as CEO of IAG New Zealand, where she started her career in 2008. While Amanda still has strong ties to Australia (both of her adult children live there) she takes advantage of every opportunity that New Zealand offers. During COVID separations, her attitude remained positive, a key factor to her professional success today.
One of the reasons Amanda loves her role as the head of IAG New Zealand is due to the collaborations it forges. "IAG has always believed that companies are 'better together' with their supplier network and distribution partners who help them sell and service and therefore add to IAG's knowledge base.
"As New Zealand's largest general insurer, we collaborate and maintain partnerships to build shared outcomes. We hold relationships with one in two New Zealand households – and this is not a responsibility we take lightly. In addition, the complexity of challenges we face as a business –  partnerships with our supply chain, our broker network, our bank partners and the Government serve as an essential feature to ensure we remain appropriately connected.
"For us, it's not just about selling insurance, but working together to continually add value to our communities, while also managing risk.
"We're a trusted organisation, but in times of crisis, trust can slip. We moved early at the onset of COVID-19 in 2020 to establish a 'specialist customer care team' to allay the worry and anxiety of those customers who had found themselves in vulnerable situations."
Amanda didn't always intend to carve a career in insurance. "It wasn't my dream career, but as I became embedded I realised how foundational it is. It's the backbone of our economy and not  just about assets anymore, but how to keep people safe – helping communities to avoid risk and  become more resilient. As a founding signatory of the Climate Leaders Coalition, Amanda is impressed with the global collaborations to reduce carbon emissions and focus on climate change. "Communities can either build differently or not at all, or retreat from high-risk areas, or put mitigations in place."
So, what drew Amanda to Global Women in 2021? "The prospect of creating a pipeline for female talent so that we can drive the agenda and make change." And positive mentoring. "I've been thrown in the deep end by mentors, however, they had my back and that made all  the difference. Drop thoughts of the Impostor Syndrome and embrace every opportunity to give your best shot. And remember that your life isn't all about your career and money, it's about the experiences!"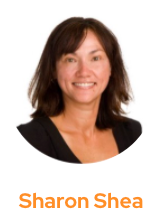 "Me aro koe ki te hā o Hineahuone" – Pay heed to the dignity of Māori women. This beautiful whakataukī was shared with me by Sharon Shea, MNZM, Co-Chair of the Maori Health Authority (MHA) and Board member of Health NZ (HNZ).
Sharon was born in Tauranga. Her mother is Māori, her dad is Pākehā, of Irish descent. Sharon and her husband, Morris Pita (Ngāti Wai), have three teenage sons and live in Tāmaki Makaurau/Auckland. Sharon's iwi affiliations are Ngāti Ranginui, Ngāti Haua, Ngāti Hine and Ngāti Hako.
Belonging, Equity, Resilience and Impact are four words that epitomize Sharon's beliefs and passion, particularly as they pertain to the health and well-being of Māori and fulfilling the promise of te Tiriti o Waitangi through governance roles in health. "Māori and non-Māori on both boards are working in partnership for the common good. A strong relationship is developing between the boards.  We share with transparency, have robust discussions, and then come to an agreement to ensure that the future health system is going in the right direction."
Sharon is an optimist. "I like innovation with the focus on better, scalable outcome-focused solutions. I've faced many barriers through being indigenous that created bias, discrimination and racism. Collaboration and innovation will lead to improved health for Māori as tangata whenua, and the health of all people in Aotearoa New Zealand."
Currently, the MHA is in establishment mode. It will be significantly smaller in organisational size to HNZ. "Don't discount our ability," Sharon comments, "our influence is huge, and our role is substantive. We are changing the narrative.  We will provide better understanding of te Tiriti and the opportunities it holds for success.  "Mai i te po ki te ao mārama" (It is in the darkness, that we see the light of our tomorrow.) The current intergenerational disparities are unfair, unjust and in many cases avoidable. We have to recognise systemically the differential starting point of tangata whenua and tangata tiriti. Equitable investment of resources will contribute to equitable outcomes."
Why did Sharon join Global Women in 2021? "Because it acknowledges the mana inherent in women. We can support and celebrate every success. Today, there are more Maori women in senior leadership roles, but the journey is certainly not equitable; it can be rough and tough. We need to embrace our cultural uniqueness and strengths and work together to 'level the floor in order to lift the ceiling'. Don't dwell in the darkness (te po); follow the pathway to knowledge, commitment, action, and reflection (ki te ao mārama)."
All interviews and stories written by our Editor in Residence, Jenni Prisk (Global Women Member)